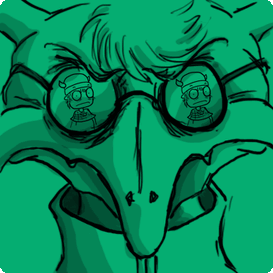 Grylock the Ambassador is the representative of
Goblinoster
in
Castle __________
. A stout, bent-backed
goblin
, Grylock is the voice of his species in the castle - and possibly a spy, as well.
Brought in after the attempted invasion of Castle __________ by the forces of King Gok , Grylock lives in the nobles' wing. He doesn't fit in well with gentile company, however, as he loves to get drunk, and urinates on those he hates. His behaviour has earned him few friends in Castle __________. The notable exception is Prince Logan , who seems to appreciate Grylock for his lack of respect towards people in general.
Grylock was stationed in Castle __________ to learn more about the hole , and King Jeffrey's intentions towards the world in general. It is implied that Grylock is much more than a mere ambassador, though what other skills he possesses remain a mystery.